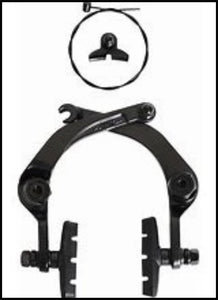 Low profile coiled spring brake from Rant. The design keeps the brakes out of the way Includes all hardware, straddle cable and black brake pads. Material: Die cast alloy. Weight: 5.6 oz.
With the proliferation of wider frame rear ends and the use of super wide tires, we decided to upgrade the Rant Spring Brake II to be even more functional and better looking. A total redesign, we increased clearance and gave a high end look with low profile open springs, refined shape and debossed Rant logo. Compatible with up to 2.5? wide tires.
Includes all hardware to dial in your ride.